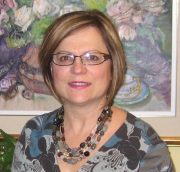 Interesting design, quality workmanship and most importantly "wear-ability" have become hallmarks of Myroslava Dubyk Custom Jewellery.
For over 10 years, I have sold jewellery at private events, fundraising sales and online. Many women have found their signature jewellery at one of my sales.
More recently, my clients have asked me for Ukrainian Tryzub Jewellery. I listened and branched out into casting new Tryzub jewellery. Most of the designs are suggested by my customers: my son Oleh wanted a golf marker, my friend Marika wanted a gift for her son to mark his Ukrainian school graduation, Halia wanted a Tryzub sun pendant for a young girl, Dmytro wanted co-ordinating rings for his two sons…
Most designs are rendered in sterling silver or yellow gold, but other gold colours are also available. "Ukrainian" rose gold and white gold being the most popular.
Each month I send out a newsletter about my newest jewellery. Sign up to my website mailing list to be one of the first to hear about new pieces. Check out my Facebook page and feel free to e-mail me about your jewellery needs.
"When I was little, I remember watching my mother stitch traditional Ukrainian embroidery designs. As she worked she talked – how as a young girl, she embroidered a new blouse or dress each spring using the fabric my father's family wove over the winter. I would watch the intricate embroideries come to life. The reverse as beautiful as the front! So began my fascination with colour, detail and fine workmanship".